Alternativa(s):
I Really Don't Want to be Reborn
4.8

Alternativa(s):

I Really Don't Want to be Reborn
Sinopsis
oco sabía yo, Chen Hansheng; la antigua élite de la sociedad y un Diamond Bachelor, renació. Cuando me desperté, ¿era un graduado de último año en la escuela secundaria? Más tarde, Chen Hansheng caminaba cerca del cruce de peatones, parecía vacilante. Una niña preciosa; Shen Youchu y otras dos chicas; Bai Yueguang y Xiao Rongyu, ¿a quién elegirá? ¿Todos ellos? ¿Uno de ellos? ¿Dos de ellos? Lea para averiguarlo. Nota al margen: Diamond Bachelor es una palabra de argot que significa alguien increíblemente rico y soltero.
chapter 1 Who are you?

My name is Luca and this is my story. I should first tell you a few things about myself. My mother died when I was younger due to an accident. My mom was nicest and kindest. People that knew her was very sad that she died. My father couldn't even look at me because I look just like her. He became depressed to the point where he didn't want to work, so I had to get a job. I didn't really love it but I also didn't really hate it. I always work after school, oh my breask I would do my homework and some other students who had paid me to do their. I was okey with it because I have nothing better to do. So why not? I really needed the money but I couldn't tell my father that I had a job and people are we're paying me to their homework. He would be fruious at me, so I have to keep a secret. I am a senior in high school. I don't really have friends and the only friends I have are my books. I just focus on my schoolwork so I can graduate early. I am 18 years old and I'm not that tall as I'm only 5'7 and I'm gay. I don't really wear a lot of cool clothes and i mostly look like a nerd. I don't really enjoy talking to people, I'm pretty shy and a quiet guy who sits all the way in the back row. It's better sitting at the back as I can see the outside and be with my own thoughts. I don't have to be around a lot of people and they usually don't see me since I'm seem to be invisible to them Hey my name is Isaac and this is my story. I have a big family, three sisters, four brothers, my mom and dad. My parents work a lot but when hey do have time hey make sure to be here for us. I'm not really a bad boy kind of person but at the same time I do like breaking rules and I do not care what other people think. I would always get into a lot of fights I have been kicked out of school a few times. I would always change schools because of that but I never really cared since school wasn't really my thing. I have a twin brother who's the exact opposite of me. He is Mr. Popular as he has tons of frands as wall as girlfriend. They have been together for who knows how long. My twin brother's name is Leo. I just think he's too nice for me. Most people can't figure out who is who until they know our personalities. I'm not really mean Unless you bother me too much or piss me off then I'll show you my frue color. Trust me you wouldn't like it. Anyway, when I'm not in shool I hang out with some of my friends and ride on my motorcycle. When I'm alone ridding my motorcycle the fleeing of the wind brushing past me calms me. I am 19 years old and I'm 6'2 which is pretty tall. And on top of all that I'm gay.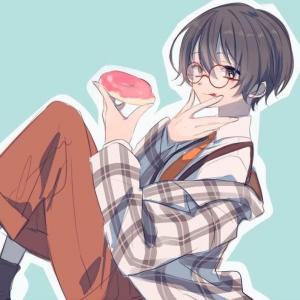 También te puede interesar